Glazed RadishesGlazed radishes only take a few minutes to prepare, and make a great side dish.
....
Beijing Radish SaladThis can be made with watermelon radishes or other types... The picture has a couple of other veggie....
Spring Radish SaladAdapted from Verdura Vegetables Italian Style by Viana La Place....
Braised RadishesBraised radishes take about 15 minutes to cook, and taste absolutely amazing. ....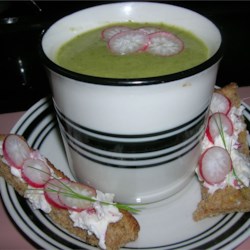 Radish Top SoupBy: LAURA NASON "This is an easy recipe that uses an unlikely part of a vegetable we love to eat. ....
Intel gardening?When geeks garden, radish technology advances...
White Icicle Radish
The White Icicle Radish is an elongated, carrot shaped radish. It is generally larger than the typical salad radish, and slightly more spicy.


Description
The White Icicle Radish grows best in the early spring before the days get too warm. They grow most easily in loosened soil, but the roots are capable of penetrating even thick clay. Keep them well watered to prevent woody or overly spicy radishes.

This radish usually grows approximately six inches in height.