Glazed RadishesGlazed radishes only take a few minutes to prepare, and make a great side dish.
....
Beijing Radish SaladThis can be made with watermelon radishes or other types... The picture has a couple of other veggie....
Spring Radish SaladAdapted from Verdura Vegetables Italian Style by Viana La Place....
Braised RadishesBraised radishes take about 15 minutes to cook, and taste absolutely amazing. ....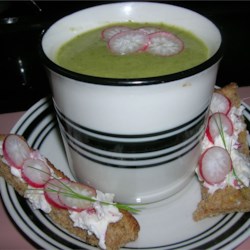 Radish Top SoupBy: LAURA NASON "This is an easy recipe that uses an unlikely part of a vegetable we love to eat. ....
Intel gardening?When geeks garden, radish technology advances...
Radish Relish
Photo


Recipe Description The recipe was originally called Rosy Radish Relish. And when made with regular radishes it does have a rosy hue, but considering it can be made with all radishes, we've changed the name to simply "Radish Relish".

Ingredients 3 cups stemmed radishes
2 large ribs celery
1 large red onion
2 tsp salt
1 cup sugar
1 tbls mustard seed
2 tsp dill seed
1/2 tsp celery seed
1 cup vinegar
2 tbls prepared horseradish

MethodPut the radishes, celery and onion through the coarse blade of a grinder, or chop them fiely. Mix with remaining ingredients and allow to stand three hours. Bring to a boil in a large pan and cook ten minutes. Pour into hot jars, leaving half-inch head space. Adjust lids and process 1/2 pints and pints in a boiling water bath for 20 minutes.