Glazed RadishesGlazed radishes only take a few minutes to prepare, and make a great side dish.
....
Beijing Radish SaladThis can be made with watermelon radishes or other types... The picture has a couple of other veggie....
Spring Radish SaladAdapted from Verdura Vegetables Italian Style by Viana La Place....
Braised RadishesBraised radishes take about 15 minutes to cook, and taste absolutely amazing. ....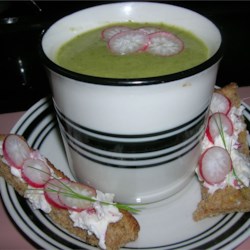 Radish Top SoupBy: LAURA NASON "This is an easy recipe that uses an unlikely part of a vegetable we love to eat. ....
Intel gardening?When geeks garden, radish technology advances...
The Essentials Of Concord Grape Growing
Published on 04/08/11 by Emma Rose
Concord grape growing may look challenging at first. But some people prefer this type of grape when they want to grow the fruit in their own backyard. At almost in any place and in any gardening shops, seeds of concord grape can be accessibly found. The name was derived from a city in Massachusetts. Maintenance and care is needed to this type of grape like any other kind of grapes. It's not only in the countryside that Concord grape vines seem to be growing but in the wild as well. Because of the tart taste, it makes them appropriate for making grape juice.

If you're planning to go for Concord grape growing, you need to keep a few things in mind :

First is to decide whether to grow from scratch using seeds or to use vines. It's both a great method for you to rear Concord grape growing, whichever method you chose.

Choose the type of soil for your grapes. Black and Rich Soil are the most common type of soil used for Concord grape growing. Adding compost and mulching the growing vines are also beneficial for them as they grow and develop. After 2 weeks of planting in two weeks, add fertilizer and make it a habit to weed and maintain for better growth.

You need to consider the location. By rule of thumb, grapes of any variety thrive well under the sun. Sunlight should be adequate on your backyard. Also, a need for a good drainage system counts. It is not recommended for Concord grapes to be planted on long-standing water since it poses for poor soil quality and drainage as well. n general, Concord grape growing are ideal to have it planted on sloping and hilly areas.

Grape vines must grow on desired areas that you think is best. For large vineyard, make use of trellises but there are vines that crawl on walls such as home-grown vines. The Vines grow in whatever structures you want to employ. For the growers convenience, there are ready-made trellises available or do-it-yourself from the stores to use for your home.

Part of the having the grapes to grow is pruning it, and winter and spring seasons are difficult weathers to have it done. You need to be cautious when pruning them because new grapes still grow on the vines and Concord grape vines thrive from these new growths.

Any vegetation or produce surely needs time and effort, and grape vines are not an exception. There should be enough preparation and knowledge in starting to plant Concord grapes or any variety for that matter.