Glazed RadishesGlazed radishes only take a few minutes to prepare, and make a great side dish.
....
Beijing Radish SaladThis can be made with watermelon radishes or other types... The picture has a couple of other veggie....
Spring Radish SaladAdapted from Verdura Vegetables Italian Style by Viana La Place....
Braised RadishesBraised radishes take about 15 minutes to cook, and taste absolutely amazing. ....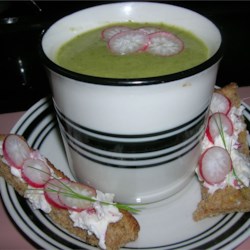 Radish Top SoupBy: LAURA NASON "This is an easy recipe that uses an unlikely part of a vegetable we love to eat. ....
Intel gardening?When geeks garden, radish technology advances...
Grape Growing Season - Why Is It Important
Published on 04/08/11 by Emma Rose
Vineyard owners and farmers know that the grape growing season is crucial and it is one of the factors that can affect the quality of grapes. Because vines grow more in seasons that either too hot or too cold, moderate temperature is applicable for the grapes. Sweet grapes are often the result of warm temperatures or sunlight. The grape belt in most of the continental U.S. is between 30 to 50 degrees N. latitude. Grapes usually have less sugar and acidic when it's cultivated in cold weather.

Grape Growing Season is around 150 - 180 days under standard varieties. But there are also longer and shorter season. Many vineyards choose a variety that matures during a certain grape growing season and for them, the earlier the better.

Grape vines like well-drained and deep loam soils. The moisture that are found in soil gives advantages for the vines as well. With acidic soils of 5 to 5.5 pH, it gives benefits too. To establish the pH, have the vines mulched with pine or fir.

Grape growing season usually runs through March to October for certain regions. Vines grow perfectly in this climate period which is not too cold and not too hot giving it a moderate temperature. During March the buds usually break. In May the blooms are out then fruit set. By the time August came, ripening process starts on. Fruit are ready in ripe in the first of October tentatively.

During the grape growing season, grape growers look for the early or late development. Grapes which ripens in a later time should be taken care of because the later the harvest, chances are bigger possibilities of rain before its picked. Its important to note that rain do not goes well with grapes.

During the grape growing season, it would be difficult to deal with when there are climate changes. The standard process of crop cultivation may be interrupted by rain, snow, and too hot temperatures. You should have a head up on your region's climate to ensure that your grape vines will grow properly and produce fruit in the right moment.