Glazed RadishesGlazed radishes only take a few minutes to prepare, and make a great side dish.
....
Beijing Radish SaladThis can be made with watermelon radishes or other types... The picture has a couple of other veggie....
Spring Radish SaladAdapted from Verdura Vegetables Italian Style by Viana La Place....
Braised RadishesBraised radishes take about 15 minutes to cook, and taste absolutely amazing. ....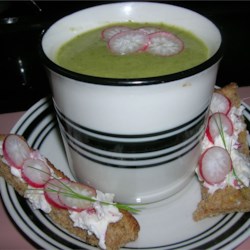 Radish Top SoupBy: LAURA NASON "This is an easy recipe that uses an unlikely part of a vegetable we love to eat. ....
Intel gardening?When geeks garden, radish technology advances...
Help! My Radishes Aren't Bulbing / Rooting.
If you are having trouble with growing radishes, specifically getting them to bulb (produce a root), you have come to the right place. There really is no one reason why this could be happening, but there are just a couple of things you can do to ensure that your radishes not only grow nice greens, but also produce a large root.


Radishes not bulbing? Keeping the pH level of your soil at a fairly neutral level (6-7) will greatly improve your success in your radishes producing a good root/bulb. If you have a high nitrogen content in your soil, you will see large green tops, but no bulbs.

When you plant your radish seeds, make sure not to plant them deep. A good practice is to sprinkle the seeds across the top of the loose soil, and then sprinkle a little soil over the top of the seeds. This method ensures your seed is not getting planted too deep. In fact, the seeds can sometimes be slightly visible to the eye, and that is still an acceptable depth.

Crowding can be a BIG PROBLEM as well. Keep your radishes thinned to about 2 inches apart, so that bulb production is encouraged. Avoiding crowding will be a successful practice. Radishes will also become deformed if you allow them to grow too close to the others.

Radishes do best with fresh soil. Adding a little sand to the soil never hurts, either. Make sure the soil drains well, always stays moist, and is fairly loose. As far as the fresh soil is concerned, this basically ensures that there isn't a family of root maggots living in it to eat away at your radish root or leaves, thus producing a good bulb.

Keep your soil watered at all times. Do not let them dry out!

Good luck and happy growing!